Park Road Books, Charlotte, NC
June 21 @ 7:00 pm

-

8:00 pm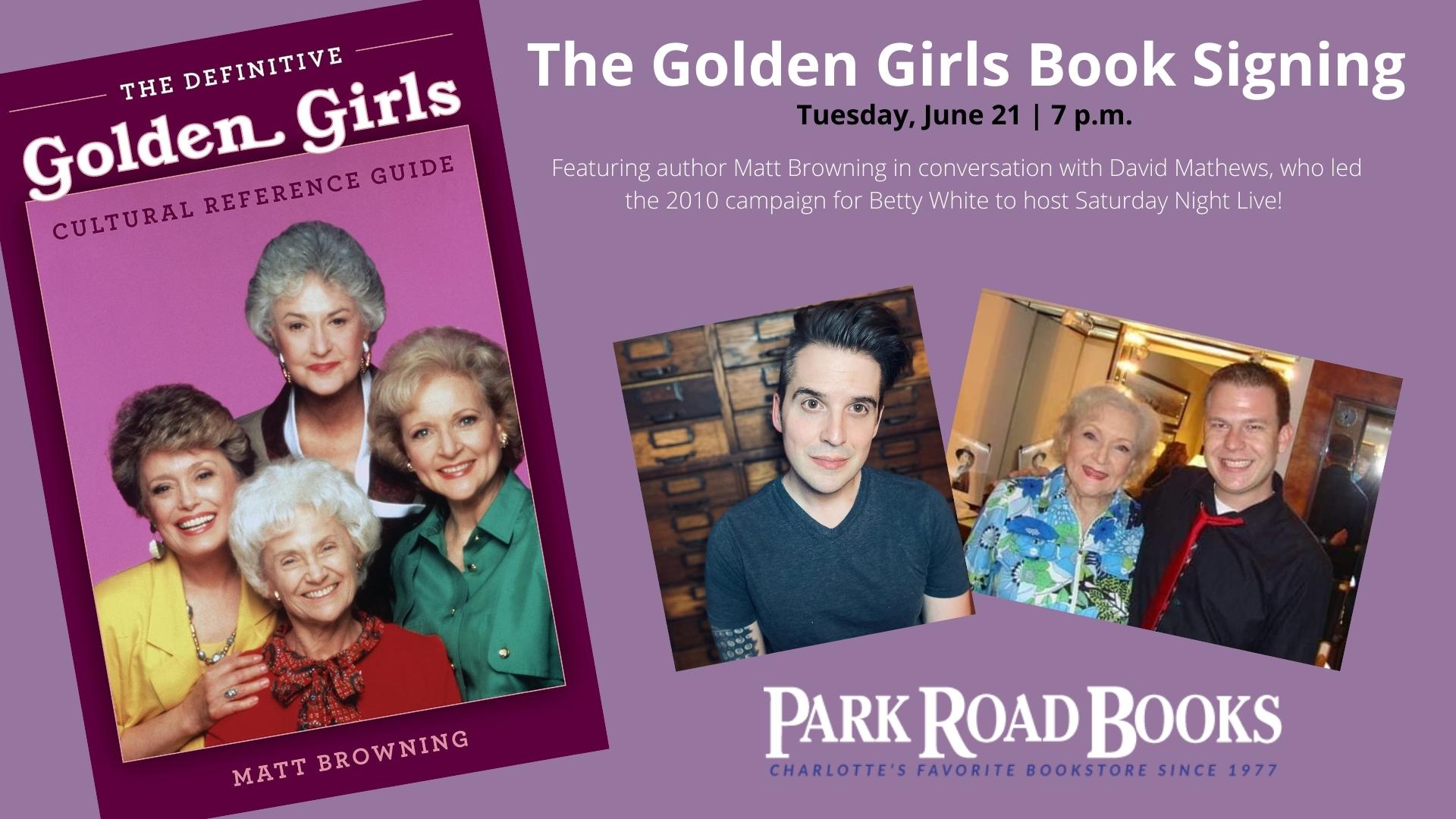 Join author Matt Browning in conversation with David Mathews as they discuss Browning's new book "The Definitive Golden Girls Cultural Reference Guide," published by Lyons Press, at Park Road Books in Charlotte, North Carolina, on Tuesday, June 21, at 7 p.m.
The Definitive Golden Girls Cultural Reference Guide is an in-depth look at the hundreds of topical references to people, places, and events that make up many of the funniest lines from the ever-popular television series, The Golden Girls.
Meticulously researched episode by episode, the book is an eye-opening, illuminating encyclopedia of "the who, the how, and the ha!" of hundreds of topical jokes. From Joe Isuzu to Socrates, Alan Alda to Shinola, Martha Raye to Madge, and Ishtar to Tattletales, at long last fans of The Golden Girls will finally be saying, "Oh, now I get it!"
The book retails for $24.95.
Matt Browning is the author of "The Definitive Golden Girls Cultural Reference Guide," an encyclopedia of thousands of pop culture references from the perennial favorite TV series The Golden Girls. Researched episode by episode, the book finally explains those dated references to people, politics and events from the 1980s that made up so much of the show's humor. In 1998, he launched EmptyNestTV.com, a website devoted to the Golden Girls spinoff series Empty Nest, which has led to multiple articles and interviews with the show's cast and crew. Matt's other works include "Bookstore Explorer: West Virginia," a celebration of the state's indie bookstore culture, and "Chicks and the City," a children's picture book about urban farming. He lives in Charleston, West Virginia.
David Mathews started the Facebook campaign that led to Betty White hosting Saturday Night Live in 2010. A Golden Girls fan since a childhood trip to Florida, where he saw a replica of their home at then-MGM studios, he developed a near-encyclopedic knowledge of the show by his early 20s. He loves all four lead actresses, but especially the late Bea Arthur, and, of course, Betty White. Along with countless interviews and charity events, David and his husband recently attended the first-ever Golden-Con in Chicago, Illinois, where David regaled the audience with his experiences with Betty through the SNL campaign and after.