Headline Books to Host "Chicks and the City" Virtual Book Chat November 20
Headline Books to Host "Chicks and the City" Virtual Book Chat November 20
Award-winning Picture Book is a Children's Take on Urban Agriculture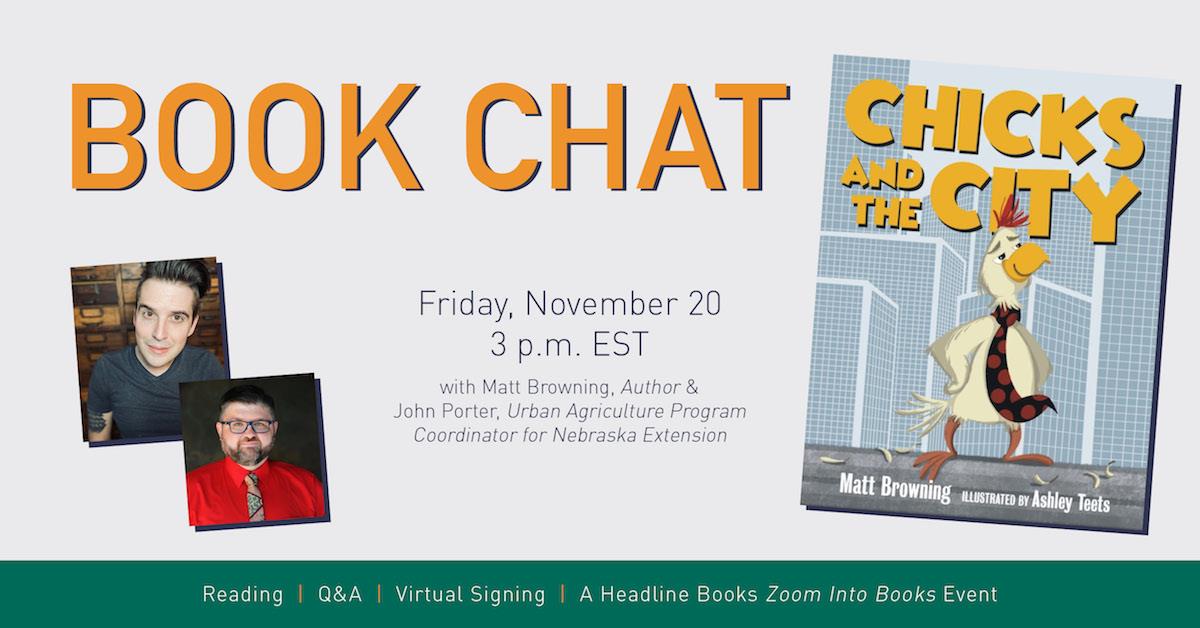 CHARLESTON, W.Va. – Headline Books will host an online book chat with author Matt Browning and John Porter, urban agriculture program coordinator for Nebraska Extension, Friday, November 20, at 3 p.m. EST, as part of their Zoom into Books virtual platform. The event will feature a reading and discussion of Browning's new book, "Chicks and the City," a kid-friendly exploration of urban agriculture that recently received an Honorable Mention at the New York Book Festival. 
"The concept of urban agriculture has grown exponentially in recent years as people in cities and towns have become increasingly interested in growing their own food," said Browning. "You don't have to live on a large farm with acres of land to be a successful small-scale farmer, and this book illustrates examples of how to do that for young people."
In the book, Chicken Stu, a barnyard bird, watches the city from atop a silo and longs to visit. He makes his way there and discovers the many ways farming happens in downtown areas, like urban orchards, community gardens, farmer's markets and chicken coops.
"Adventures like those of Chicken Stu show kids that farms can be anywhere and farmers can be anyone, no matter who or where they are," Porter said. "It also introduces them to the fact that food starts out somewhere else before it gets to the grocery store – whether it is a big farm somewhere far away or their neighbors farming on previously vacant city lots. Agriculture is everywhere, and agriculture is life."
The idea stemmed from the rise in urban farming that Porter was seeing in West Virginia cities during his tenure as an extension agent with West Virginia University. Porter and Browning were part of the original planning team for the annual West Virginia Urban Agriculture Conference in 2014, now held annually at West Virginia State University.
Viewers of the Zoom into Books book chat will be able to order personalized copies during the event, which will be broadcast live on the Headline Books Zoom into Books Facebook page.
"Chicks and the City" is published by Headline Books and is illustrated by Ashley Teets. To learn more, visit MattBrowningBooks.com.