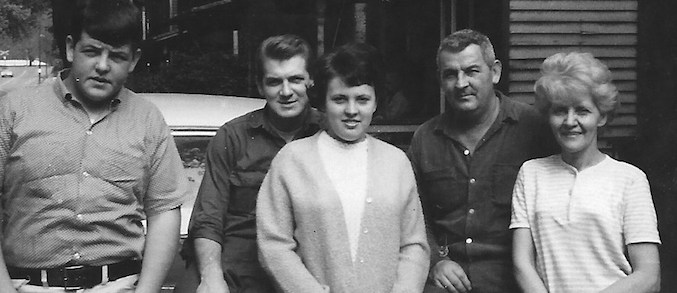 Mountain Woman: Reflections on Life in the Appalachian Coalfields
Mountain Woman: Reflections on Life in the Appalachian Coalfields
On a typical Sunday morning drive through Omar, W.Va., about 10 miles south of the Logan County seat, there's little activity along the two-lane road that winds its way through the community. Once a bustling coal town nestled between the mountains, empty storefronts and pothole-lined streets suggest a place whose best days may be behind it. Yet election signs dot front yards, people gather at the lone filling station to discuss the day's news, and the parking lots of the area's many churches spill cars into the street.
For some longtime residents, however, this version of Omar is far removed from the one of years past. And yet, it remains home.
At age 3, Kathy (Sizemore) Browning moved with her parents and younger brother from Norton, Va., to Omar. The year was 1951, and Kathy's father, a World War II veteran, was seeking work in the coal mines. Built upon a thriving coal industry, Omar seemed as good a place as any to settle down.
"Dad and my uncle decided to move to West Virginia I guess because the coal jobs were available, and it wasn't too far from where we were at the time," Kathy says. "Plus, they both played baseball, and the coal companies had teams."
Kathy's early memories of the town differ greatly than what she sees today. "Back in those days, there were nice stucco homes, the big general store, and there was a theater near the train tracks that's long gone."
The Sizemore family moved into an apartment above the theater, where a young Kathy quickly made herself at home. "I used to go downstairs, and the women who worked at the theater would let me run up and down the aisles or play in the ticket booth. They let me have the run of the place."
Jobs like working at the theater, though, were rare. In Omar, if you were employed, it was most likely in the mines or for the company that owned it.
"I don't know of anybody that didn't work for the coal company. That's all there was as far as I know," Kathy says. "The coal company owned everything – the store, the houses you rented. All of it."
The miners wouldn't get paid in money. They'd get what they called scrip that they'd use at the company store in exchange for goods. The store stocked everything a family would need, from food to furniture to clothes. People would place a call to the store, give the clerk their list, and the order was delivered to the front door, because no one had transportation, unless they owned a horse. In fact, the grocer wasn't the only one making house calls. The town doctor – also a coal company employee – would come to those in need.
"Dr. Moore was the doctor's name, and if you got sick, he'd come to the house," Kathy recalls. "You always got a shot of penicillin and those old gray cough tablets that were like charcoal. You knew when you'd see him coming that you were going to get a shot, so we'd start crying the minute we saw him coming up the road."
From the basic needs of food and shelter to medical care, it was all controlled by the coal company. Kathy recalls a line from the Tennessee Ernie Ford classic "Sixteen Tons," which, she says, rang true for the people of Omar.
"There's that old song lyric, 'I owe my soul to the company store.' It was the truth. There were many times Dad didn't get a paycheck. He owed it all to the company store. We used to go to the soda fountain in the store and order milkshakes and candy and charge that to Dad's account, too."
Having the secure income that a coal job provided didn't mean life was easy. Many of the homes didn't even have indoor plumbing.
"We moved from the theater to a small place in nearby Chauncey that had a gas furnace and inside bathrooms. I think we were the only house in Chauncey that had that. And all the school teachers at the four-room schoolhouse down the hill would come up to our house and smoke with Mom during recess."
This lifestyle carried Kathy through her childhood, but in the early 1960s, she noticed things beginning to change. As automobiles became more prevalent, people were less reliant on the coal company store and were venturing elsewhere for their needs.
"We moved from Chauncey back to the main street in Omar when I was in the 10th grade, and it was around then I noticed things were getting a little bit better. More people had cars, and they'd drive to Logan to shop or go to the old drive-in theater in Monitor. They had the best hamburgers you ever had in your life at that theater."
Slowly, the days of coal company-owned life dwindled as more and more people ventured beyond Omar's borders to trade. Even then, the decline in the coal industry was evident as mines began to close and people moved on.
"Peo
ple just got away from that," Kathy says. "Just like now, mines would close down, people would move away, same as it is today. It seems to me that around the time I was in high school, all those things were gone – the theater, the store, they weren't there anymore. Once people got transportation, they were going to Logan to do their shopping."
While in high school, Kathy met her future husband, Stacey Browning, the son of her first and second grade teacher, Inamae Crockett Browning, a descendent of frontiersman and politician Davy Crockett. The two dated while Kathy finished high school and married in November 1966, shortly after her graduation.
"He bought me a ring. It had a little, tiny, itty-bitty diamond that was so small you couldn't even see it. I don't even have it anymore. I lost it down the sink!"
The newlyweds rented a small house in the nearby hollow of Cow Creek.
"We paid $25 a month in rent," she says. "Stacey delivered for the bakery, and I worked at Dot Discount, a drugstore, and then at Sayre Bros. department store. We didn't have a car at first, so we got a ride to town with our neighbor, or Stacey would bring the bread truck home sometimes."
The couple eventually moved to Delbarton, in Mingo County, and had their first child, daughter Cindy, in 1970. They then moved to a mountaintop on the West Virginia-Kentucky border.
"Stacey was a forest ranger, and I got a job as a tower observer," she says. They lived in a small cabin at the base of the tower. "It was a nice little cabin, had a shower in the basement, and the toilet was outside, over the hill."
Watching for fires proved to be a secure job.
"Lord have mercy, the world would burn up! There were always fires going," she recalls. "They paid 25 cents an hour to fight fires, so people would set fires just to get the 25 cents an hour to go fight them." The remote location of a mountaintop tower, however, didn't necessarily provide security. "I wore a holster and a gun," Kathy says. "People would try and break in on you up there in those towers."
With so many hours to kill and so much to see from a mountaintop tower, it was easy to become distracted if activity did occur, whether or not it was fire-related.
"On Sundays, all the young people would come up and make out in their cars on the hill where I was. So one day, I had my binoculars out, and I was watching them. I got a call on the radio saying, 'Mingo, I'm seeing a lot of smoke in your area. You got a fire over there?' I turned around and the whole daggone mountainside behind me was burning up while I was watching the lovebirds!"
Eventually, Mother Nature wore out her welcome on the mountaintop. The storms were so strong that wind would jostle the tower, and lightning would often strike the cabin, burning up the telephone line and light bulbs. It became too much for the Brownings.
"It'd scare our German Shepherd to death. He'd disappear for hours at a time during a storm."
After coming down from the mountain, the family lived with Kathy's parents for a time, then moved to the Mingo County town of Red Jacket before landing once again in the Omar area, first in the Barnabus community then back to Cow Creek. Stacey and Kathy welcomed two more children along the way – son John in 1976 and Matthew in 1980 – and have called Cow Creek home ever since.
Kathy has watched the coal industry's effect on her town from its early, successful days, to its steady decline. She recalls her life in Omar with a fondness that, while still evident, has shifted in recent years.
"I liked it better back then. Now a lot of the houses are run down. Back then, the houses were nice – the coal company houses. You had people out on their porches talking all the time. You don't see that much anymore."
It's still a good place, still home, she says. But different.
"You might as well say Omar is like a ghost town compared to back in those days, because you had so much going on. Nobody had any money, but there was a lot going on. Everybody got along. Us kids would go outside and go into the mountains and play and stay all day. We didn't have to worry about anybody kidnapping us. It was a different set of problems than what goes on today."
With the expansion of cleaner energy sources and stricter environmental regulations on coal mining, leading to what some in the region call a "war on coal," many people who have long relied on coal to put food on their family's table are left without a job – or a marketable skillset to fall back on.
"It's bad. The coal mines are closing down. They're laying off miners," Kathy says. "A lot of them are going to have to move away, and it's going to get worse. It's not looking too good for the coalfields. It's really not looking good at all. There's hundreds and hundreds laid off every other week around here, it seems. The government is trying to train people to do other stuff, but I don't know how that's going to work out."
Now retired, and with their children long out of the house, will Kathy and Stacey join those who are moving out of Omar? It isn't likely.
"I would've left a long time ago if Stacey would've, but he wouldn't hear of it and still won't," she says of her husband, now 70, who was born in Cow Creek. "And I wouldn't want to be too far away from the kids."
Daughter Cindy married a coal miner and lives with her family in nearby Switzer. Older son John and his family reside in Logan, and youngest Matthew in Charleston. Kathy and Stacey will welcome their first great-grandchild later this year.
At age 67, with an extended family of children, grandchildren and, soon, great-grandchildren, packing up and leaving just doesn't seem worth it to Kathy at this point in her life.
"Really, when you get to be our age, you're too old to go anyway."
Like so many of the mountain men and women in the town of Omar, for Kathy Browning, it would seem her roots are firmly planted. As the times continue to change, however, what will grow around those roots remains to be seen.