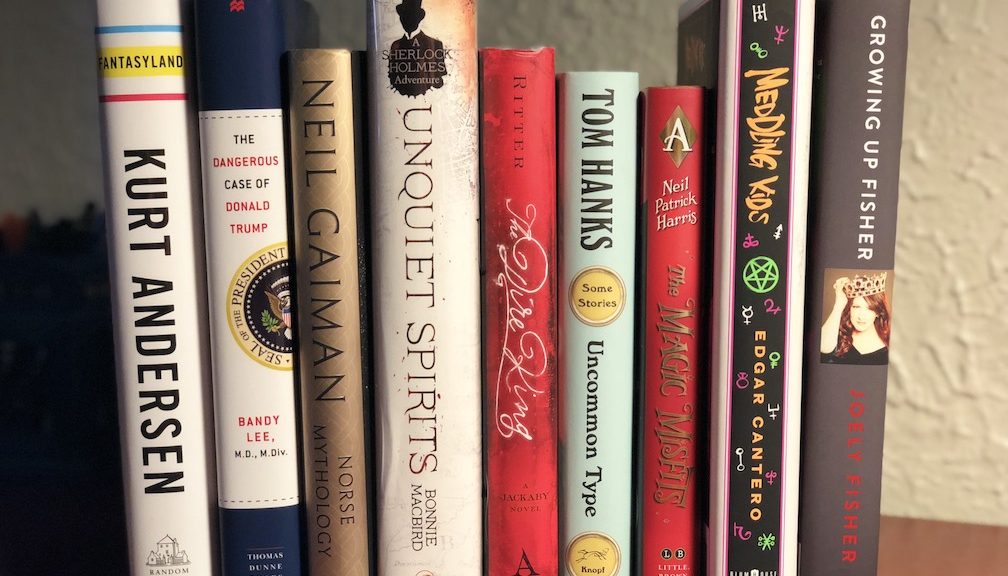 Best Books of 2017
Best Books of 2017
It's been a while since I've compiled a "best of" list of the books I've read over the course of the year, but seeing as how I'm attempting to reinvigorate the blog, I thought I'd offer a list of my recent favorites. When looking back on my favorite books of the year, a couple patterns emerged. Apparently, this year I was really into politics, mystery and the musings of authors better known as actors.
In random order, here are my favorite books of 2017.
The Dangerous Case of Donald Trump by Bandy Lee, M.D., M.Div. – This book was illuminating, captivating and frightening. A group of psychiatrists and mental health experts assess Donald Trump's mental capabilities to serve as President of the United States. The essays are jarring, as these professionals risk credibility by sidestepping the American Psychiatric Association's Goldwater rule, which prevents psychiatrists from making armchair diagnoses of public figures. This was the most important book I read this year.
Fantasyland: How America Went Haywire: A 500-Year History by Kurt Andersen – Curious how we ended up where we found ourselves in the previous book on this list? Then give this one a try. I haven't finished it yet, but it's gripping enough to put here anyway.
Growing Up Fisher by Joely Fisher – My recent rewatch of Ellen on Hulu put Joely Fisher back onto my pop culture radar. The daughter of Connie Stevens and Eddie Fisher, and half-sister of Carrie, Joely was born into show business royalty. The book is full of interesting insights, with added weight provided by the recent deaths of Carrie and her mother, Debbie Reynolds. The subtitle – Musings, Memories and Misadventures – attempts to explain the occasionally meandering writing style that was a little off-putting at times. But, as a whole, an intriguing celebrity bio and a nice counterbalance to the heaviness of my previous entries on this list.
The Dire King by William Ritter – I loved the Jackaby series when it launched a few years ago. Ritter blended elements of science fiction, magic and mystery in his world building, drawing comparisons to a "Doctor Who meets Sherlock Holmes" hybrid. Admittedly, I preferred the earlier books in the series, which were heavier on the mystery instead of the fantasy, but The Dire King, which concludes the four-part series, was an enjoyable ender.
Unquiet Spirits by Bonnie Macbird – Speaking of Sherlock Holmes, Macbird has picked up the pen originally held by Sir Author Conan Doyle, writing gripping novels about the continuing cases of Holmes and the faithful Dr. Watson. Unquiet Spirits is the second in Macbird's series, with a third on the horizon. Fittingly, I discovered these books at The Poisoned Pen, a mystery-themed bookstore in Scottsdale, Az., and devoured them.
Meddling Kids by Edgar Cantero – This interesting novel draws its inspiration from the old Scooby Doo, Where Are You? cartoons, imagining what might've happened to a group of mystery-solving youngsters and their dog once they've grown up and their past comes back to haunt them.
Norse Mythology by Neil Gaiman – Masterful storyteller Gaiman puts his own unique spin on the Norse myths. Need I offer any additional reason to read this?
What Happened by Hillary Clinton – "What must Hillary be thinking during all this?" was a question I asked myself multiple times following the results of the 2016 presidential election. This book answers that question rather thoroughly.
The Hate U Give by Angie Thomas – An important and timely read addressing race relations about a teenage girl who watches her (innocent) friend get shot and killed by police.
Uncommon Type by Tom Hanks – While I enjoy Hanks as an actor as much as any of us does, I wouldn't necessarily have clamored to pick up his first work of fiction if not intrigued by its premise. Each of the selections in this short story collection somehow involves a typewriter. I love typewriters. And Hanks proves adept at prose. I must not have been alone in my desire to pick this up. The clerk at my local bookshop acted as though I wasn't the first person to ask about it when I didn't find it on the shelves.
The Magic Misfits by Neil Patrick Harris – While we're on the subject of actors-turned-authors, Harris takes a stab at children's fiction in this fun book that incorporates his love of magic into a middle grade mystery. The first of four books, apparently.
While I'm here, I may as well offer a few other favorites from the year in entertainment.
Music: Spoiler alert: They're almost all folky singer-songwriters.
The Order of Time by Valerie June | Lost at Last Vol. 1 by Langhorne Slim | Busted Jukebox Vol. 2 by Shovels & Rope | Girlhood by The Preatures | Nobody's Fool and the Donor Blues EP by Shakey Graves | Snow by Angus and Julia Stone | Folksinger Vol. 2 by Willie Watson | Carry Fire by Robert Plant | Poor David's Almanack by David Rawlings | The Songs of Bob Dylan by Joan Osborne
Television: There is simply too much good TV on these days.
The Marvelous Mrs. Maisel (Amazon) | American Gods (Starz) | Twin Peaks: The Return (Showtime) | Stranger Things 2 (Netflix) | The Good Place (NBC) | Big Little Lies (HBO) | American Vandal (Netflix) | Veep (HBO) | The Toys That Made Us (Netflix) | Psych: The Movie (USA) [It's essentially a 2-hour episode of the show, so I'm putting it here.]
Movies: Confession: I didn't see a lot of movies this year, but these were all wonderful.
Loving Vincent | The Florida Project | Lady Bird | Wonder Woman | A Ghost Story